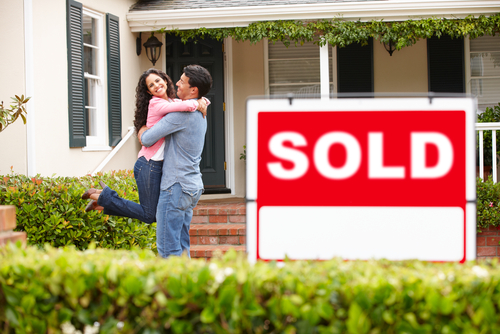 When the market is hot, preparation is key to buying a new home.
1.  Get serious about what you need vs what you want.
Do you insist on new appliances? Hardwood floors? A sunroom? That's all okay, but remember that the longer your list of requirements, the fewer choices you'll have. So go ahead and put that list together. And when you're done, rank each from most to least important. If a home meets most of your needs but not the needs that are most important to you, you might regret buying it later. 
2.  Get your financial home in order
The sooner you ready your financing, the better. Doing so will clear any problems and also give you an accurate picture of how much home you can comfortably afford.
Review your credit score regularly and check your credit report for accuracy.
Continue to save money for your down payment. While it's nice to have at least 20% down to avoid Private Mortgage Insurance (PMI), financially it's more important that you become a homeowner as soon as you can. Don't fear PMI. Mortgage Insurance is still a tax deduction, just like interest paid on your mortgage.  Plus, you're actually making money when real estate values go up regardless of your down payment.  For instance, if you buy a $300,000 home today with 5% down and pay PMI, you're at least in the game. If home values go up even 10%, you just made $30,000 in equity.  On the other hand, if you sat on the sideline and saved your money to reach the 20% downpayment to avoid PMI, you won't enjoy the $30,000 gain, plus you would then pay $30k more to buy the same house you passed up. Worse, it's likely that in that period when you're out of the market, you likely will not have saved the full 20% down and will still be looking at PMI.
Then, save some more since you will need extra money to cover a potential appraisal gap on the home you want to purchase or you may have to pay two mortgages for a month or two if you cannot close on your timeline.
Contact us at Homelend USA a get pre-approved for a mortgage. Note that we didn't say to get "pre-qualified." Pre-approval is a more thorough financial review that tells the seller that you're serious and can handle the purchase. We will pre-approve you for free.
Understand your potential expenses and make sure you have enough income to handle potential costs, like a new air conditioner.
Determine exactly what you are comfortable paying so you will not feel stress when paying your future mortgage. The number at which you're preapproved does not need to be the amount you borrow. Give yourself enough room to be comfortable.
3.  Find a really good real estate agent.
Consider working with a full-time agent and seek referrals from those you trust. An agent saves you a lot of time and can also reduce your stress by sharing valuable insights.

Get out there and find your home
 
4.  Act quickly when new listings are provided to you
Make yourself available whenever it's time to view a place that's for sale, set a tour date quickly, and be ready to put in an offer that day if you're interested.
 
5.  Put in a strong, clean offer.
In a hot market, it's wise to put in a full asking price offer or something extremely close to it, especially when other offers are going to be made. Remember, other potential buyers may not be pre-approved, giving you and your offer a leg up in the minds of the sellers. Don't hesitate to add terms that are favorable to the seller, like offering a quick closing, or removing any contingencies. You may even add more earnest money if you can.
 
6.  Consider contingencies carefully.
Contingencies can cancel any sale. So while you should always insist on a home inspection contingency, you may decide to limit other contingencies, such as financing, appraisal, or a review of HOA documents. If you add contingencies, make sure they can be resolved quickly to help convince the sellers that they won't impact the sale of their property.
 
7.  Don't push the sellers.
In a hot market, making demand on the sellers can put you out of contention for the home. Focus on getting your offer accepted and be as flexible as possible when meeting the seller's needs. Once your offer is accepted, then you can discuss purchasing the pool table in the basement.
 
8.  Include a personalized letter with your offer.
Most home sellers have many years and many memories in the home you are working to buy. Adding a personal touch to a strong bid may help to create an emotional connection with the seller. Be brief, but be honest about why you want to buy their home, including what attracted you, personal touches you admire, and how you plan to make memories in your new home.
 
9.  Don't be surprised if there's a bidding war.
In a seller's market, your offer will likely be one of many. Stick to your plan and check your emotions. If you left some room in your initial offer, you may want to add an escalation clause that rises up to a predetermined limit so that you're not outbid.

Be Patient and Persistent

While painful, try to move on quickly if your offer is rejected for another buyer's offer. Review your plan with your agent to make sure your approach is not taking you out of the hot market.
 
10.  Patience is a virtue
Unless you have to move fast, roll with the changes knowing that more homes meeting your needs will be listed on the market at some point, and they may even be more to your liking.
 
11.  Stay determined and be persistent
You will find your home, so keep the faith. Continue searching house listings and stay in close contact with your agent. As long as the market is hot, new opportunities will arise daily.

Of course, contact Homelend USA very early in your process to have confidence that the homes you're viewing are within your budget. Our pre-approval process is fast and free.